What is it about CONNEX, Inc and our spring bushings and spring pins that make us stand apart from the rest? Simply put - our desire to partner with our customers rather than just service them!
Our basic desire to partner with our customers is only part of the CONNEX Difference! Our spring bushings and spring pins are designed to replace solid and straight-slotted pins and bushings without sacrifice!
Seating capacity of the spring bushing corresponds with the pressing force necessary to move the bushing out of the housing bore, i.e., to overcome static friction. The CONNEX Principle enables a higher seating capacity than a straight slotted counterpart!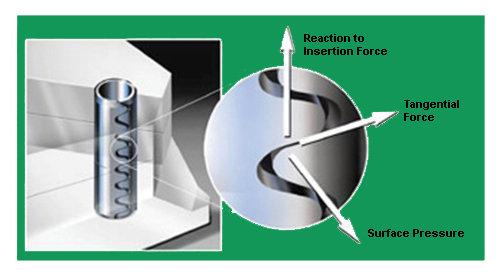 The slotted-tooth design of the CONNEX bushing allows for a nearly closed surface in the housing bore, which enables it to function similarly to a solid bushing. However, the precision of the housing bore required with a solid bushing becomes obsolete with a CONNEX Spring Bushing. The bushing will contract as it is inserted to fit the housing bore. The CONNEX Spring Bushing can be a more cost effective alternative to the solid bushing. They are easier to fit and help avoid harmful stresses to our customers' components. The ease to insert and remove will help keep costly downtime to a minimum.
Many spring bushings are made of a high carbon AISI 1070 or 1074 spring steel, while CONNEX uses AISI 6150 spring steel. AISI 6150 is a chrome-vanadium spring steel that has a smaller grain boundary, which decreases the chances of fracturing.