spring bushings - spring pins
E-MAIL: info@connexusa.com Voice: 814-474-4550 Fax: 814-474-4577

CONNEX Inc. 7660 Klier Drive N, Fairview, PA 16415
CONNEX® is a fully integrated manufacturing facility offering capabilities not found at most specialty parts producers.
CONNEX manufactures spring bushings and spring pins designed for heavy load bearing applications.<![if !vml]>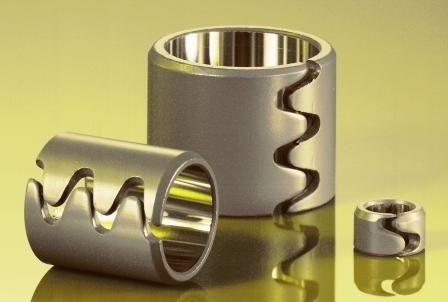 <![endif]>
Engineers and designers will find that CONNEX can provide them with a wealth of experience . You will discover this experience leads to a cost-effective solution to application problems. Our precision products and special alloy material meet the high standards that CONNEX has set. Our plant operates a quality assurance program according to the internationally recognized Standard ISO 9002, <![if !vml]>
<![endif]>distinguishing our products with high quality and precision.
The corrugated slot design of the CONNEX spring bushing provides much higher surface pressure against its housing than conventional straight slotted tension bushings. The radial force in combination with tangential force produced by our unique design provides a much higher seating capability which resembles an interference fit of a solid tubular steel bushing.
CONNEX spring bushings are designed for heavy load bearing applications. CONNEX bushings offer the wear resistant qualities required along with ease of installation and flexibility found in the split bushing design. They are a cost-effective option to solid bushings.
We also specialize in heavy spring pins, light spring pins, ground spring pins, precision spring pins and locating spring pins for fastening and locating situations. The unique design of CONNEX spring pins offer solutions not found with substitute parts for demanding applications.
The pages that follow on our web site will guide you through the technical information about our bushings and pins. We look forward to the opportunity to apply our products and extensive experience toward solving your application problems or questions.
E-MAIL: info@connexusa.com Voice: 814-474-4550 Fax: 814-474-4577

CONNEX Inc. 7660 Klier Drive N, Fairview, PA 16415